Okay. Let me collect myself so I can tell you how it went down. *takes deep breaths* Much better. So last Sunday, I woke up to an emailed offer from a publisher for my YA dark fantasy The Grave Winner. I must have read the email about fifty times, then turned around and said to my BF, "I think I just got an offer from a publisher."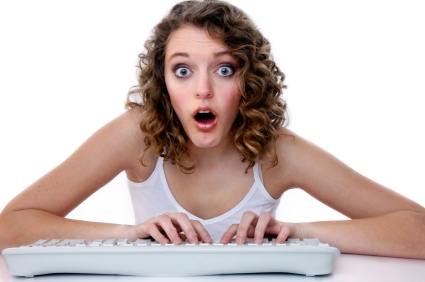 Me Sunday morning, only my hair was sticking out all over since I just woke up.
Fast forward through the next few days as I nudged the agents and other publishers who still had my book to Tuesday. Crescent Moon Press emailed me to request the book again because it must have been eaten by cyber worms. Less than twenty-four hours later, I received an email with exclamation points and another offer!
Fast forward to Saturday, when another publisher sent me an offer. Three offers! In less than a week! Now, for those of you who have already read The Grave Winner, three is kind of a magic number in the story. Interesting, eh?
Needless to say, I had a lot of thinking to do. I contacted some of these publishers' authors to ask them questions. I emailed the publishers directly to ask even more questions. I let it all percolate for a bit, then I made my decision based on my gut feeling. Crescent Moon Press all the way, baby!!!
I was truly impressed with their enthusiasm, the speed in which they answered my questions, and their continued production of quality books. Oh, and their book covers! Go to their website and look at them. They are goooooooorgeous.
I signed the contract Sunday night and put it in the mail yesterday. It feels damn good.