You peeps are in for a treat! J. Andrew Jansen, who is one of my critique partners, just released his debut novel called The Priestess, The Protector. Memorable characters, a unique fantasy plot, plenty of adventure, slices of sharp humor, and the sweet awkwardness of young love make this a story to be added to the top of your reading list.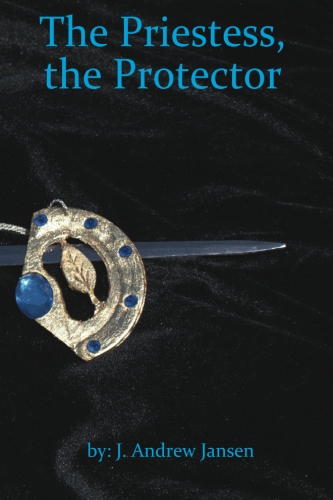 J agreed to answer 13 of my zany questions and tell us a bit more about his book. Check it, and be on the look-out for a cool giveaway!
Me: What's something about you that really annoys you?
J: Time management skills, and the lack thereof.  I'm frequently late to events, particularly if they are regulalry scheduled.
Me: We must use the same clock because I'm always late, too. What's the name of the book you're reading?
J: Hmm.  I just finished Beautiful Creatures.  I'm halfway through "The Wiseman's Fear", though I'm a bit underwhelmed by it right now.
Me: Why do you write?
J: Because the voices in my head won't relent unless I do.
Me: I hear you! Did you learn anything today? If so, what?
J: When you first get to the office, always check the temperature of the coffee in the pot before you pour a big cup and dump it in your mouth.  Cold coffee = sad.
Me: Ye-ouch! I wish I could say I've never done that. Are you prepared for the zombie apocalypse? Why or why not?
J: Yes, but not in the way most people expect.  My plan is to run to meet the zombies and get bitten.  I'd rather be on the team with a plan for world domination instead of hiding in a mall with a dwindling supply of food and ammo, waiting for the inevitable.
Me: That makes perfect sense. There's much less stress that way. What's the one thing you can't live without?
J: Family.  And internet.  Probably in that order.
Me: Good answer! Would you rather be a vampire or a werewolf?
J: Vampire, definitely.  One word:  Fleas.
Me: HA! What are you going to do right after you finish this interview?
J: Go back to work.  (I'm lying.  Probably go get more coffee and wander around the office.)
Me: What scares you?
J: The fear of running out of stories.  I'm really digging this writing thing, and don't want to find out I'm a hack.
Me: Nope, you're not a hack! Pop or soda or soda pop?
J: Soda.
Me: Interesting. I'm a pop kind of girl. What's the last song you listened to on purpose?
J: I'm going to cheat and give two, so that I don't give the wrong impression.  Technically, the last song I listened to on purpose is "Bangarang" by Skrillex.  Before that, it was "Walk Like an Egyptian" by The Bangels.
(Interesing side note.  In Bangarang during the refrain, I think he's saying:
"Feel the…
Bangarang."
But if you think about it just right, you can make it sound like an argument between  "Kool-Aid"  and "Gatorade!"
Just sayin…)
Me: I love it! That's so funny! What is your favorite dessert?
J: Apple cobbler.  It has to be hot, with a big ol' scoop of vanilla bean ice cream.
Me: Yummmmm. What makes you laugh?
J: Kool-Aid!   Gatorade!
Awesome. 🙂
Here's more about The Priestess, The Protector:
Since she and her sister were found as orphans, Mirian has grown up in the temple, a passionate priestess dedicated to her Goddess. When she is granted magical healing powers, she feels her life is complete.
But jealousy tears the sisters apart, and pride keeps them separated. When Mirian is commanded by her Godddess to travel to heal the royal family and repair the rift between her and her sister, she finds one is easier than the other. And then there's Jerok.
Jerok lives a carefree life bouncing from one place to another, liberating food and money as he goes. When he comes across a naive priestess in the middle of the woods, he decides she will be his ticket into the castle for the heist that will let him retire. But getting into the castle was just the beginning.
They are intercepted by an elf and a dwarf who pull them into the midst of a war between races they'd never known existed, a war she is supposed to win. But even with a magical pendant she cannot channel the power of the elements, leaving her unable to defend herself.
Despite the chaos, Mirian remains determined to find her sister, but can she do it in time? And will Jerok find what he's been searching for?
Want to win a free e-copy? Of course you do! Leave a comment and I'll pick a lucky winner.
Important Links: