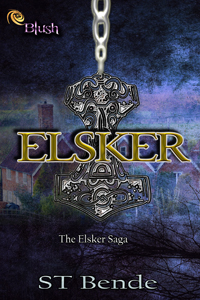 So one day I was minding my own business while checking my email when I discovered that I won a query critique on Melissa Dozier's Blogiversary Bash. The critique was to be given by ST Bende. I sent her a query of A Boy and Her Scratch (yes, I know it's not finished yet), and she replied back with her critique, and it turns out she's mega-fabulous. And super nice, too!
Her debut, a new adult paranormal romance called Elsker, released April 20th. She's going to take over and tell us a bit about it because she's that awesome. Here's ST Bende!
First of all, I have to tell you that I have major cover envy, Lindsey.  THE GRAVE WINNER looks absolutely amazing and I can't wait to read it!
And second, I'm thrilled to visit your blog.  As a debut author, it's been such a treat to be embraced by such a lovely group of readers and writers.  Y'all have been so fabulous.  
ELSKER, Book One in THE ELSKER SAGA, follows twenty-year-old Kristia Tostenson as she leaves her small town to find adventure at Cardiff University in Wales.  Kristia gets a lot more than she bargained for when she falls in love with Ull Myhr.  He's not just a graduate student — he's an Asgardian Assassin, and the Norse God of Winter.  Kristia's orderly life is about to get seriously complicated.
I brought one of ELSKER's goddesses along with me today — Inga Andersson's beyond excited to introduce the ELSKER crew.
ST: Inga, why don't you tell everyone a little about yourself?
Inga: Hei hei.  I'm Inga, and I know I don't technically have a Title, but I know Odin meant to dub me Domestic Goddess.  I love baking, decorating, fencing, IndyCar racing, and of course my fabulous husband, Gunnar.
ST: Gunnar's a god too, right?
Inga: Of course! And he's a captain for the Elite Team, Asgard's top squad of assassins.  He's ranked #3 in total kills, behind Ull and Thor.
ST: Ull is Thor's stepson, and the God of Winter.  Tell us about him.
Inga: Ull?  First of all, he's stubborn.  He completely buries himself in his work and has no personal life whatsoever, even though Gunnar and I have been bugging him for eons to go on a date, already.  He's irritating, and moody, and extremely bossy.
ST: I thought you liked Ull.
Inga: I do.  He's my best friend.
ST: And the hottest god in Asgard, right?
Inga: *sighs* I guess he is pretty good looking, if you're into the whole 6'5" brooding Norse god thing.  But honestly, he's too sensitive for me.  Gunnar never gets bent out of shape when I tell him his fencing technique needs tweaking.  That's why I love him.
ST: Tell us about Ull's grandma.
Inga: Olaug's fantastic.  She's a little firecracker, and the best cook in the realm.  But she can be as stubborn as Ull — I've been begging for years and she still won't share her Norsk waffle recipe.  It's just wrong.  I share all my recipes with her.  All of them.
ST: I have a surprise for you.
Inga: What?
ST: I got her recipe.
Inga: Are you kidding?  That is so unfair.  You just met her.
ST: But Inga…
Inga: *huffs* What?
ST: I give her recipe away on the last page of ELSKER.  You can have it.
Inga: Seriously?
ST: Seriously.
Inga: Jeg elsker det, ST.
ST: I love you too, Inga.
THE ELSKER SAGA and the delicious Norwegian waffle recipe are available now from Entranced Publishing. 
Excellent! Waffles sound sooo good right now. Here is the blurb for Elsker, ST's bio, and links where you can stalk find her.
Blurb:
Kristia Tostenson prefers Earl Grey to Grey Goose and book clubs to nightclubs, but when she transfers from her one-stoplight town to Cardiff University in Wales she falls in love with Ull Myhr. Her new boyfriend isn't exactly what she was expecting. He's an honest-to-goodness Norse God — an immortal assassin fated to die at Ragnarok, the battle destined to destroy Asgard and Earth. Kristia's crazy visions are the only thing that can save their realms.
TUR, the prequel, can be downloaded for free HERE or HERE.
ELSKER, Book 1, is available from Entranced, Amazon and Barnes & Noble.
Bio:
Before finding domestic bliss in suburbia, ST Bende lived in Manhattan Beach (became overly fond of Peet's Coffee) and Europe… where she became overly fond of the musical Cats.  Her love of Scandinavian culture and a very patient Norwegian teacher inspired The Elsker Saga.  She hopes her characters make you smile and that one day pastries will be considered a health food.
Find ST Bende on Twitter (@stbende), Goodreads, or her website.
And be sure to stop by http://stbende.blogspot.com/p/elsker-tour.html between April 11th and May 20th to enter to win fabulous prizes in the ELSKER Release Month of Giveaways!