It's almost summer time!!! What better way to celebrate the final week of school (at least for me) than with a fun interview with author Katie O'Sullivan? There is no better way, so let's go!
Me: The zombie apocalypse is here. You're going to fight them off with the first thing you see on your left. What is it?
Katie: Umm, that would be the Girl Scout patches my daughter earned for selling cookies. (She helpfully stuck them on my desk so I could sew them for her.) I'm not sure how that would help with zombies though… guess I'm a goner.
Me: HA! Well, maybe the zombies will be so impressed with your daughter's accomplishments that they'll leave you alone! Did you learn anything today? If so, what?
Katie: That I need to be better prepared for the zombie apocalypse!
Me: LOL! How do you like your vampires: not at all, sparkly, wearing a cape, or drinking blood from bottles?
Katie: Blood from bottles, definitely. (Erik is pretty yummy in the books and on HBO both!)
Me: *sighs* Oh, Erik. Can I please be your Sookie Stackhouse? Where did the idea for Son of a Mermaid come from?
Katie: My middle child and I were walking the dogs on the beach one day and we found a strange beach stone with a hole cut through the center. We started making up a story about the mermaid who lost it and what she was doing so close to shore… and it sort of took off from there.
Me: That is so cool! What's something about yourself that really annoys you?
Katie: My packrat tendencies. I'd like to blame it all on my husband, but I think I'm guilty too. I wish I could just let go of stuff!
Me: I can relate. Sometimes I think I'm nearing an episode of Hoarders with my packrat habits. Other than your release day, what is something you're really looking forward to?
Katie: The City of Bones movie theater release. But I have to wait all summer!!
Me: I read the book, but I felt kind of "meh" about it. Anyway, what's the name of the book you're reading?
Katie: The Fault in Our Stars, by John Green.
Me: I need to read that one! So many books…so many books… What scares you?
Katie: Cows & Cows & Cows. And spiders.
Me: THAT WAS THE WEIRDEST THING I'VE EVER SEEN! Ditto on the spiders. Pop or soda or soda pop or Coke?
Katie: Soda. But I don't drink it anyway.
Me: That's a healthy way to be. Why do you write?
Katie: It's fun to create different worlds and characters and see the stories in my head come to life!
Me: What's the last song you listened to on purpose?
Katie: Iris, by the Goo Goo Dolls. And my son's Black Keys CD.
Me: What is your favorite salty treat?
Katie: Cape Cod brand potato chips.
Me: What makes you laugh?
Katie: My kids. And stupid jokes, like those involving grammar humor. Or elephant jokes.
Awesome. Here's a bit more about Katie and her book Son of a Mermaid: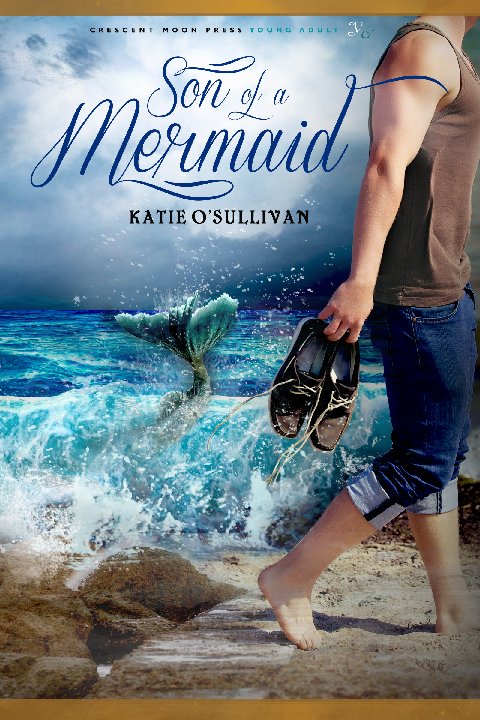 SON OF A MERMAID, by Katie O'Sullivan
Published May 2013 by Crescent Moon Press
YA fantasy romance
Book Blurb:
Shea MacNamara's life just got complicated.
After a freak tornado devastates his Oklahoma farm, the fifteen-year-old orphan moves to Cape Cod to live with a grandmother he's never met. Struggling to make sense of his new surroundings, he meets a girl along the shore who changes his life forever.
Kae belongs to an undersea world hidden from drylanders. The daughter of royal servants, she knows the planned marriage of her Princess to the foreign King should put an end to the war between the clans. Two things stand in the way of lasting peace: an ambitious Regent and rumors of a half-human child who will save the oceans.
Sparks fly when she meets Shea, but could the cute drylander really be the Son of a Mermaid?
About the Author:
Katie O'Sullivan lives with her family and big dogs next to the ocean on Cape Cod, drinking way too much coffee and inventing new excuses not to dust. She writes YA and romantic suspense novels, and works as an editor making other people's words sparkle. For the last four years, she's been the Editor of CapeWomenOnline.com magazine and writes a column entitled "The Write Way."
She hopes her debut YA novel, SON OF A MERMAID, will make a big splash this summer, engaging young readers with a Cape Cod tale of a boy who discovers both his roots and his destiny far below the waters of Nantucket Sound.
Find Katie online:
Follow her Blog – http://katieosullivan.blogspot.com
Like her on Facebook – http://www.facebook.com/AuthorKatieOSullivan
Find her on Twitter – https://twitter.com/OkatieO
Check out her website at http://www.katie-osullivan.com
Add Son of a Mermaid on Goodreads: http://www.goodreads.com/book/show/17184560-son-of-a-mermaid
Doesn't that book cover just make you want to jump right in? Aww, summer!
Katie is also giving away some prizes to celebrate her release, including this gorgeous necklace!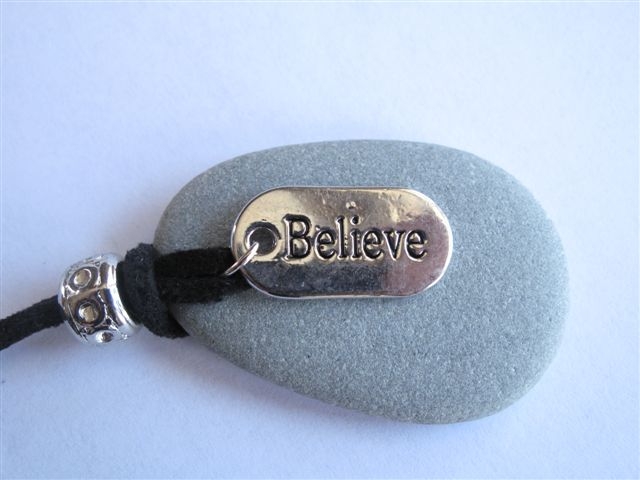 Want! To enter the contest, just enter your info into the Rafflecopter below.
Oh, wait! I almost forgot that I'm over at Katie's blog today for an interview! You should totally go check it out. 🙂