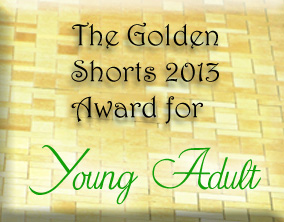 I was asked to judge the Golden Shorts writing contest in the YA category, and of course I said yes! The winning story had pitch-perfect voice, excellent characterization, and a tightened plot, all of which are a challenge to achieve in any story, let alone a short one. So, without further ado, I bring you the winning YA short story: Turning Point.
Fight or flight.
That's the rhyme some idiot coined to simplify the last choices of a cornered victim.
Fight or flight.
For me, it's neither. Retaliating would only make them angrier. Running away would mark me as a coward. Neither option would help in this situation, and I've learned over the years that it's better if I just take it in silence. Screams pour the gasoline and curses light the match. Raise a finger to apply Hammurabi's prominent code and the world is set ablaze.
A hardened fist strikes my chest again, and I slam backwards into the crumbling brick wall of Lakeland High. The double impact sends me flying face first towards the ground, but I catch myself and end up scraping my hands on the concrete. My eyes automatically screw shut from the pain and I stay frozen in place for a moment, fully aware of the vulnerability of my position. A heavy sneaker rests on my back, slowly pushing down until my arms start to shake from supporting the weight.
"You acting tough, homo?" one of the jocks snarls and sends a sharp kick to my side. I fall flat to the ground and hold back a grunt. Anger bubbles in my gut at the casual nature of the insult, but all I can do is brace myself for the next blow.
"He's probably just trying to act like a man."
A kick to my back.
"Hey, get him on his knees again, Tyler. He likes taking hits in that position."
A punch to my jaw.
Two of them grab my arms and pull me up. A grimy, unwashed hand grabs my chin and forces my head violently upwards. I glare up at Zack Leavitt, a third-rate football player with more muscle than brains. Backing him up are Jason, Tyler, and Gabe, all upperclass athletes.
I look Zack right in the eye, trying my best not to betray any fear or anger. They say bullies lose interest if you ignore them, but that's just another bullshit theory bystanders came up with to reassure the unfortunate. Bullies in essence are more sensitive than their victims; rub them the wrong way and you've got a violent tempest heading towards your face.
"What're you lookin' at, homo? You got something to say to me?"
Without waiting for an answer he slugs me right below my temple, hard enough for me to be ripped out of Jason's grip. My glasses clatter to the ground and the entire side of my face goes numb before an extreme pressure starts building under my eye. Through ringing ears and throbbing jaw, I string together what I hope is a coherent sentence.
"What was that? Speak up, you little shit," Zack snarls, yanking me upright by the collar of my shirt.
"I said…I'm not gay…" I choke out, staring him down through blurry vision.
He scoffs and gives me the most obnoxious leer. "'Course you are, faggot. Your parents are homo. That means you're homo. Homos raise homos."
"Then you must be a curious case," I spit.
There's a beat of silence.
"The hell'd you say?"
Four against one isn't remotely close to fair. Four jocks against one skinny sophomore is just an unreal joke, a worst-case tragedy. This is why I prefer not to give lip to larger, stronger guys. Not only are they irrational and short-tempered, they just can't handle it when someone physically smaller and weaker demeans them in any way. I lose count of the number of punches to my face, the kicks to my legs, and the elbows to my gut I receive. An uppercut to my chin snaps my teeth together on my tongue, and I taste a familiar flavor of blood.
"Keep your fucking comments to yourself," Zack warns. He grabs my shoulders and rams his knee right in my groin without a hint of holding back. There's only so much pain a human can endure without screaming, and I fall to the ground with a cry that tears at my throat.
"Not like you need those anyway," Gabe laughs, stepping over me to follow the rest of the posse away from the school. I lay there silently as their footsteps fade away into the distance, trying not to throw up from the pain raking through my body. My fingers blindly find my glasses and I shove them on, barely caring that the frame is once again dented out of place. I roll over onto my back and let out a tired groan.
I'm sick and tired of this.
Zack was right about one thing and one thing only: my parents are gay. I don't have a mom and a dad like everyone else. I've been raised in an environment with two people of the same sex, and there isn't a single thing wrong with that. I never hated them for being together, I never hated them for adopting me, and I never hated them for choosing to be open about it.
I never hated them for one second, even if they were the cause of the constant bullying and hazing and teasing and humiliation. They are loving parents and blaming them would be unfair as Zack and his merry band of gorillas beating me up for reasons beyond my control.
But sometimes, I wish I actually was homosexual just so those asshats would have a legitimate and valid reason to beat me up. Not that a reason like that would make it better, but it would make more sense to be made fun of for an unaccepted truth than an assumed lie.
"—Keys. Hey! Keys, can you hear me?"
Someone is slapping at my cheek hard enough for it to sting, and I slowly open my eyes. One eye doesn't even open all the way, so I'm left looking up through blurry vision at a concerned face peering into mine.
"Nngh…" is all that comes out of my mouth. The slapping hand stops and I hear a sigh of relief. The same hand tries to pull me up from the ground, but pain flashes throughout my body like an electrical surge at the sudden movement, and I rip myself away with a falsetto shriek of agony. "Fffff—!" is the only letter I manage to spit out.
"Shit, man. Sorry."
"'S okay," I mumble, my tongue still numb from the chomping it took.
After giving me a moment to catch my labored breath, my potential hero helps me sit up with gentler tugs. I say 'potential' hero because June Anderson could beat up Zack and his cronies with a blindfold but chooses not to. Standing a hair over five feet and weighing a hundred pounds plus change, June is one of those girls who emits a dangerous aura without actually doing anything violent. Nothing about her appearance gives it away; she has a small figure, short legs, and an ever-present smirk pulling at her lips. But I've seen her in action when someone pisses her off. She swears she's never taken any kind of self-defense class in her life, but the way she incapacitated those assholes in the cafeteria one day for making her friend cry was enough for me to want to duck and cover whenever she got that deadly look in her eyes.
The last place I want to be is on the receiving end of that fury.
Not that it's likely I'll ever end up there. Even though she's a senior, June had taken a liking to me back in October of my freshmen year when she saw one of the first Six Jocks vs. Me mosh pits going on at the football game one Friday night. She hadn't interfered directly, but she had approached me afterwards with a giant cup of hot chocolate and a medical kit stolen from the football team. Before the game ended, she had taken me to each of the jocks' cars and helped me release all the air from their tires.
June is quite a character. Despite her calm and collected outward personality, she could become cold and deadly in the blink of an eye. Cold and deadly, but not stupid. The reason she never interfered in my business—even when I was getting the ever-loving shit kicked out of me—is because she knows it's my business. Even though I never mentioned a word about it, she somehow seemed to pick up on my no-retaliation ethics and steered clear whenever I was in a pinch. Though sometimes I wish she would play Wonder Woman and save the day, I'm always grateful in the end. She understands that a guy being rescued by a girl would only fuel the false assumptions placed on my name.
"You're crying," she says, only a sprinkle of sympathy in her voice.
I hadn't noticed. I touch a finger under my eye and find her words true. I should be ashamed, at least a little embarrassed, but I brush it off with a shrug.
"Automatic tears," I grunt, dragging myself to my feet. "Zack hit me where it hurt."
She helps me up with minimal contact, grimacing at my face. "Did they really give you a black eye on your black eye?" she asks with disgust.
"They don't really set limits."
We walk off the campus—well, hobble off campus, on my part. By the time we get to her car, I'm panting as if I ran a marathon while carrying an elephant. June starts the car without comment and shoots out of the parking lot with screeching tires. We sit in silence for about a mile of driving before June exhales and releases the tension in her shoulders.
"How do you feel?" she asks.
I rub at my jaw. "Is that supposed to be rhetorical?"
"If you want it to be."
June has heard the I'm-Sick-Of-This speech a million times. She always listened with an unreadable expression, interrupted only when absolutely necessary, and gave me the best straightforward and simple advice I could ask for. It's never overbearing affection or pacifying reassurances with June. She's brusque, blunt, and doesn't waste time mincing words or sugarcoating predicaments. But she's also kind, understanding, and sympathetic. She just shows it in her own way.
I think everyone should have a friend like June.
"Keys?" she presses softly.
"Physically, I feel like crap." I wince as the car hits a bump. "Especially down there. And I guess I feel like crap on the inside, too."
"You'd be a bleeding miracle if you didn't," she agrees.
"It'd be a little better if they kept clear of my eyes, though. Black eyes are the hardest thing to find excuses for."
June narrows her eyes and shuts her mouth. I stop talking too, wondering if I took the joke a little too far. I tend to get sarcastic and light-hearted whenever we talk about this stuff, probably because I can't handle talking about it seriously. Serious talk always leads to unstable emotions.
"Listen," June starts.
Here it comes.
"Are you sure…you're doing the right thing?"
I have an answer prepared, though it takes me some time to get it out. "What else can I do? The school barely does anything. I can't afford the other schools in the area. The student body is split into bullies and bystanders." I rest my throbbing temple against the cool Plexiglas of the window. "The only friend I can confide in is a senior who deals with me out of pity."
The last word slips out in a heated rush, and I regret it the instant it's out. June slams on the brakes at a yellow light she'd been meaning to speed past, and the car goes from forty to zero miles per hour within twenty feet. Ignoring the car horns behind her, she reaches over and grabs the collar of my shirt in a near-reenactment of Zack's interrogation. Her eyes look like chips of ice despite their brown hue, and she glares at me with a vicious snarl on her face.
"Who the fuck said it's out of pity?" she practically growls. "You think I have time for something as pathetic as pity? You think I listen to you whine and groan over your choices because of pity? What kind of sap do you take me for?"
Fear strikes a chord inside of me that Zack on his worst days could never come close to hitting. The look on June's face belongs on a wild wolf fighting a bear, a hawk staring down its prey. It takes all of my strength not to let out a squeak of terror like a cornered mouse.
"N-n-no," I stutter. "No, ma'am."
The light turns green and she guns the accelerator before turning away and releasing my shirt. My hands are shaking when she does, and I rub them together to hide it. There are some days when I have to take a moment and thank God for not turning June into one of my bullies. She drives stone-faced and silent, weaving through traffic at an alarming speed.
"Sorry," I mumble after a while.
"Don't be," she sighs, "I overreacted."
She leaves it at that.
Simple words.
Simple acceptance.
I know that June doesn't pity me. At least, if she does, she doesn't make pity the basis of our friendship. Like she said, she doesn't make time for pity, and though she rarely let it slip, I know she genuinely likes me as a person. Outside of school, I'm not just 'that fag with the gay parents.' I have a personality, likes and dislikes, hobbies, and individuality. June is the only one who took the time to get to know those things about me. I can't blame her for snapping at me after diminishing that bond to a word like 'pity.'
A tense silence follows, and the only sound I hear is the quiet jangle of the keys hanging out of the ignition.
Keys.
That's the nickname she had stuck on me during our first meeting. I played the piano, another fact that added to the rumors of my sexuality, and I had been practicing for a distant recital when June stumbled into the music room looking for the source of the music. Back then, I was still somewhat terrified of her from the cafeteria incident and the dark tales about her other 'assassin moments.' But she was surprisingly friendly and talked to me like a normal person, something that hadn't happened since I was in elementary school. Before she had left, she asked me for my name, and out of nervousness my voice didn't come out too clear.
"Keys?" she had asked. "What, did your parents know that you'd become a piano prodigy before you were out of the womb?"
"Keith!" I had repeated a little louder. "My name is Keith."
"Bummer. I liked the irony."
From that day forward she referred to me as Keys. Maybe it was after that encounter when she learned about me and my frequent scuffles. She smiled at me in the hallways, high-fived me in front of the jocks before winking at them, and bought me lunch when mine was taken away. It was the flat tires at the football game that set our friendship in stone. I didn't befriend her as a hired protector, and she didn't befriend me to serve as a bully repellent.
"You missed the turn," I comment nervously as she passes through a busy intersection.
"We're stopping by my house first."
"We are?"
She glances at me. "You need a little patching up. Again."
"Wait, it's okay, June. I'm fine. I can take care of this stuff on my own," I say quickly.
"Listen, Keys. Your parents are going to flip a shit when they see you."
"Is it that bad?" I ask, glancing in the review mirror.
It is indeed that bad.
I don't stare for too long. I should be used to seeing purple stripes and red marks on my face, but in all honesty, I don't think anyone could get used to something like it. The throbbing of the bruises intensifies after the glance as if noticing their presence made them angry.
"Great."
"If it makes you feel any better, I've learned some pretty handy tricks when dealing with various cuts and bruises. I could get a job at the hospital without going to college."
"Or be hired by the mafia to take care of suspicious injuries," I shrug.
June swerves into her driveway a bit too sharply. "You and your pessimism," she scoffs.
The Anderson residence is as ordinary as it gets. Maybe it's because my house is usually pandemonium with two dogs, a cat, a wild grandmother, and eccentric parents, but everything about June's house is plain and settled. Her parents work late into the night so I've only met them a couple times, but they're decent people, almost too polite to think that they raised this infinitely kind and dangerous girl sitting next to me.
One mom and one dad.
How it should be.
I constantly ponder one question: how different would I be if I had normal parents?
A hell of a lot healthier, that's for sure. Maybe a little more muscular since I wouldn't be afraid to join a sport. Definitely more confident. A lot less self-conscious. Probably more sociable. More approachable.
Instead I'm here. Beaten. Pushed around.
Alone.
There's a tap on my window and I realize that June is already out of the car.
"You coming?" she asks, rapping at the glass.
I scramble out of the car and follow her into the house. Usually her house is dead silent when she comes home, without pets or parents to greet her. But when she opens the door, a blast of sound sends us reeling backwards. June clicks her tongue and strides inside, screaming, "I'm home!" as she kicks off her shoes. I close the door behind me and follow warily after her.
We enter her living room, the source of the ear-shattering ruckus. A figure is sprawled out on the couch, a bowl of chips and a half-empty two-liter soda bottle next to him. He holds a gaming controller loosely in his hands but his fingers rap on the buttons with furious precision. Despite his lazy posture, his eyes remain sharp and focused on the flashing screen.
"Mark!" June roars over the blast of the TV. "Yo, Mark!"
He notices her waving arms and gives her a nod. "Hey! What's up, Keith!" he calls.
"Jesus, Mark! Turn it down!"
He pauses the game and the sounds of gunfire and cannon blasts abruptly cuts off. He shoots June a disgruntled look. "Why?"
"I need you to do some maintenance again," she replies, jabbing a thumb back at me.
Mark sighs. "What is it this time? Glasses? Braces?"
"I don't wear braces anymore," I respond a little defensively.
"For real? Oh, shit, you're right. I suppose a congrats is in order," he laughs as he tumbles from the couch and somersaults to the drawer in the far corner. From the top shelf he pulls out a small box that rattles like a case of marbles.
"Have you seriously been on that couch since I left this morning?" June asks.
"Of course not. I got up for chips and soda."
"What a tiring workout."
"Never underestimate the laziness of college students. Keith," he calls, ignoring June's disapproving scowl. "Hand them over."
Mark is June's twenty-year-old brother and a third-year college student at a prestigious engineering school. He had graduated high school in the top five percentile of his class and entered college with a jaw-dropping scholarship without breaking a sweat. As if that isn't enough luck for a lifetime, Mark is one of those people blessed with the glorious combination of smarts and good looks. He has a smooth haircut and a sharp complexion that girls my age would fawn over. He also has a constant smirk like his sister, but whereas hers is joking and spirited, Mark's is more of a playboy smirk than anything else. He's charming, funny, athletic, friendly, sociable, intelligent, and attractive.
I never manage to quell the envy that bubbles in my stomach like a rancid disease whenever I look at him.
I hand him my glasses and he examines them before taking out a couple of tools from the plastic box. "Man, these have been through a lot."
"You would know," I try to joke.
"And you still won't consider contact lenses?"
"Too expensive."
"You should start charging him for repairs so he'll reconsider," June says. I hadn't noticed her leave, but she returns to the living room with the familiar First-Aid kit tucked under her arm. She tosses me an icepack and a bottle of my favorite color Gatorade. As she rummages in the kit for the appropriate remedies, she orders me to stay still and to hold the ice to my blackened eye.
In all honesty there isn't much she can do. Zack and his friends don't use knives or weapons that draw any blood, so the usual collection consists of dark bruises and twisted limbs. The worst injury I had sustained was a dislocated shoulder last spring, which June popped back into place with as much ceremony as slamming a door closed. Our method is to ice down any swelling bruises, patch up any minor scratches, brace any sore limbs with rolls of thick bandages, and cover any visible injuries with makeup.
I'm not too fond of the last technique.
"Keys, turn this way a little. You've got a scrape on your chin."
Mark chokes back a laugh. "You still call him 'Keys'?"
"Why the hell not?" she retorts, wiping angrily at my chin with a cold, stinging lotion. "He's still a piano prodigy and his name is still similar, so Keys is still Keys."
"Actually, I kind of quit piano," I correct.
There's a comical pause and both siblings freeze mid-action.
"Pardon?" Mark asks.
"I—uh. Quit piano?" I repeat.
"Is that a question or a statement?" June asks coldly.
"A newborn statement."
"So you quit recently," she clarifies.
"Yeah. But—"
"What the fuck, man? You serious?"
I flinch at the tone he uses. Mark is scary when he's angry, almost as scary as June.
Almost.
"Hey, chill out. I haven't been able to play all that well anyway since I jammed all my fingers when Zack—"
"So you're giving up?" June cuts in, all but slapping a band-aid onto my face.
"Ow. Well it's just…not in my interests anymore," I lie pathetically.
"Don't tell me you gave up painting too," Mark says without looking up from his work.
"Dude, I quit that months ago."
He makes an exasperated sound and June rolls her eyes.
I search for an explanation without sounding stupid. "Look, I know you guys think it's because I'll be made fun of. But it's not. Really. I just don't enjoy piano or painting like I used to." I even try for a smile. "That's all."
"Bullshit," June deadpans.
"Seconded," Mark follows.
He throws down a miniature screwdriver back into the box and tugs on the frame a little before handing me back my glasses. But before I can take it from him, June snatches away my hand and starts bracing my sore wrist with thick layers of medical tape.
"So you're giving up all the hobbies that make you who you are just so you can dodge one bullet of a machine gun?" Her words are spoken calmly, but the tightness of the tape starts to cut off my circulation. "You think a hailstorm's going to feel different if you take one droplet out?"
"Excellent analogies, my dear sister," Mark comments as he flips on my glasses, pulling it off like a fashion statement. The jerk.
"You always told me you never fought back or ran away because that would diminish your pride and character," she continues as if he hadn't spoken. "Then what the hell is this, Keys? You planning to fade into the background so no one will antagonize you? You think losing your identity would make things better for you?"
"Christ, June. It's just an instrument and some paints," I say, barely containing my temper. "If that's what I have to pay for them to leave me alone, then so be it."
"You're letting them change you into someone you're not." Mark warns. He steamrolls on before I can respond. "And you're wrong. They're not going to leave you alone just because you dropped some habits they assumed were 'girly.' Even if you join the football team, even if you pick up a guitar, even if you start listening to death metal, their image of you isn't going to change."
As much as I want to deny his words, I know it's pointless. I could conjure up all the delusional daydreams where all the bullies in the school lower their fists and greet me with a handshake after finding out that my hobbies are no more, but they would never become reality. Instead of being the 'gay kid with the girly paintings and the feminine fingers,' I would just be the 'gay kid who tried and failed to fit in.' As long as my parents are gay, it really doesn't matter what I do to dispel the rumors.
"All right, then what the hell do I do?" I ask dejectedly.
"Fight back," Mark says with a shrug, resuming his video game.
"Yeah, right."
"I'm being serious right here."
"He has a point," June agrees. "Eye for an eye. Scare them a bit. Even a predator would freak out if their prey suddenly turns hostile."
"But then they get over it and eat the prey anyway."
"Keith, you've got a pretty good build. I'm sure you could pack a mean punch."
"I'm sure they could manage a meaner punch."
June finishes patching me up and starts to put away the medical kit. "So the only thing holding you back from retaliating is the fear of pain?" She gestures to my bruised…everything. "You're kidding."
"It's not that simple," I say, though I don't sound as certain as I want to.
"Like hell it ain't," Mark mumbles.
"Look, I know you're not a pacifist," June starts. "I've heard stories about how you used to fight back with everything you had when you were a weedling back in middle school."
"Yeah, because I was young and stupid back then."
"And what are you now?" Mark sniffs.
"Shut up, Mark. See, what you need to do is bring that stupid idiot back into you. Throw a counterpunch at them. Kick them back. Break loose."
I shake my head. "But that'll only make them angrier and more violent."
"So? You get beat up. You grow stronger. You fight back. You get beat up more. And you grow stronger still. That's how you learn, Keith."
"Easier said than done," I reply hotly.
"'Course it is."
"That's the motto to life," June nods. "But in all seriousness, you're not going to last much longer as their punching bag."
I look back and forth between the two of them. "You guys…are serious?"
"Please indicate the words that convince you otherwise," she says snidely.
"Does it look like we're joking around?" he adds absently.
"Think about it, Keys. You're tougher than you give yourself credit for. You've got the smarts for fighting, the endurance for taking hits, and the speed for dancing around. Use your masochistic past to your advantage."
I stare at them some more. The smile starts pulling at my mouth before I make the conscious effort, and the next thing I know, I'm laughing my ass off right in front of their faces. My sides burst into flame as soon as I do, but I can't stop once I'd started.
June raises an eyebrow at Mark. "I don't remember making a joke."
"He's just laughing at your ugly face," he assures.
"You…I can't believe you're telling me to fight fire with fire," I chuckle.
"You're talking to the Anderson siblings," Mark says lazily. "What did you expect?"
Fight or flight.
The road ahead of me had been split into those two forks, but as if to escape further harm and confrontation, I had made my own path right down the middle: sit and wait. It didn't make my situation worse, but it didn't make it better, either. I had been stuck in limbo for as long as I cared to remember, earning a sympathetic reputation for standing my ground but a mocking reputation for playing pacifist. As much as I would love to punch the snot out of Zack Leavitt's face, I was afraid of making the wrong impression to the gossipers.
But then again, what more can I possibly lose?
"Oh, ho, ho. You're thinking about it." Mark says, watching me mull it over.
I give him a tired smile. "Grasping straws and whatnot." I glance at the clock and shoot up from my seat. "I have to get home. My parents are probably freaking out."
"Want a ride?" Both of them offer at the same time. They trade glares.
"It's fine. I'll walk," I say, shrugging on my jacket.
"You sure? You just took a serious beating."
"Used to it."
June walks me out and watches me silently as I put on my shoes and thank her for fixing me up. Only when I'm three steps out the door does she open her mouth.
"Keith."
I turn at her use of my real name.
"You better reconsider dropping piano. And painting. Fighting back won't matter if you're not you." Her voice softens but her expression remains hard. "Personality isn't something you scrape away to perfect like a sculpture. You add onto it like a…painting."
I wait for her to say more, but she doesn't. I give her what I hope is a reassuring smile.
"Excellent analogies, my dear friend."
Thanks for reading Turning Point by Momoko Oi in the YA genre. To read the winners in the other genres, please click the links below:
Contemporary Fantasy – "The Giant Project" by Kirstin Pulioff
http://maerwilson.com/golden-shorts-contemporary-fantasy-winner
Horror – "The Only Safe Place" by Joshuo Osto http://danielledevor.wordpress.com/2013/12/05/the-only-safe-…by-joshuo-osto/
Historical – "Him" by S.R. Mallery
http://www.christophfischerbooks.com/short-story-competition-golden-shorts-winner-historical-fiction/
Paranormal Romance – "Music Box Dancer" by Julia Long http://www.tinamoss.com/2013/12/golden-shorts-winner.html
Romance – "The Personal Ad" by Ceci Giltenan http://constancephillips.com/golden-short-romance-winner-the-personal-ad
Young Adult – "Turning Point" by Momoko Oi
http://www.lindseyrloucks.com/2013/12/golden-shorts
Mystery – MAMA CHIN'S LAST GREAT BEAR HUNT by Conda V. Douglas
http://lyndeewalker.com/2013/12/06/golden-shorts-mystery-winner/
Click here to vote for your favorite! ( http://maerwilson.com/golden-shorts-poll/)