Today, Jamie Ayres, author of the recently released 18 Truths, is here to discuss her favorite YA book couples. Oh! And at the very bottom is a Rafflecopter giveaway! Okay, take it away, Jamie!
With Valentine's Day coming up, I was thinking about making a bulletin board in my Language Arts classroom of my favorite YA Book Couples as a way to promote reading this month. I thought it'd make a swell blog post too, and Lindsey Loucks loved the idea. Huge thanks for hosting me on my 18 Truths blog tour today! Here are my picks:
Harry Potter and Ginny Weasley from Harry Potter. Jealousy, secrets, love potions: what more would you expect from wizard romance? They didn't officially become a couple until Harry Potter and the Half-Blood Prince, but she'd loved him since the moment she saw him. It just took him a while to catch up (as is often the case with teenage boys). Seeing Ginny without the 'best friend's off-limits little sister' lenses on took until the sixth book, and then Harry had to leave her to destroy the Dark Lord, but the conclusion to their romance was well worth the wait!
Alice Bell and Cole Holland from The White Rabbit Chronicles. They spend a lot of time pushing each other away, but their attraction is off the charts! He's overprotective, she's brutally honest, they're both headstrong, and excellent zombie killers! I love the heat between them!
Tessa Gray and Will Herondale from The Infernal Devices. She's a woman of virtue and integrity and he's what every mother has warned you about. But she brings out the softer side of him, the side that loves books and writes poetry. Throughout the series, they discover how much more they are like than different and are drawn more and more to each other.
Dash and Lily from the Book of Dares. Oh my gosh! I wish I could've found a red notebook when I was 16 and had a bunch of amazing adventures with a fellow book nerd. Exchanging their inner most thoughts on paper was old-fashioned and refreshing. Dash is cynical and Lily is quirky. Together, they are completely adorable and had me smiling from beginning to satisfying end.
Hazel Grace and Augustus Waters from The Fault in Our Stars. Everyone loves this novel, and I'm no exception, so of course this sweet couple is going to show up on my list! Sure, neither one of them speaks like a normal teenager; you often forget you're reading a YA novel with this one. But with the cancer storyline, these two characters are probably the most mature teens I've ever read, for good reason. Read this romance with a box of tissues nearby!
Nate and Olga from 18 Things and 18 Truths. Wait, did I just pick a couple from my own book series? Yes, I did! How can I not? I love them both so much. There's Olga, girl of faith and class valedictorian, yet somehow manages to make geeky look cool. Then there's Nate, adrenaline junkie and a bit of an oddball, but sexy as hell. Can we say opposites attract? I love how the sparks fly between them! 🙂 Of course, now that Conner's back in the picture, that leaves Nate as the outsider once again. I know my favorite for Olga, but it will be interesting to see if she picks whom she has the most history with or who compliments her the most. Both have their positives and negatives!
*So those are my picks! Who are your favorite book couples? Thanks again to Lindsey for hosting!
Any time, Jamie! For me, Harry and Ginny were perfect together. Now, here's a bit more about Jamie and 18 Truths!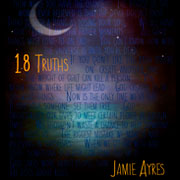 *One Line Blurb: With the lessons the 18 Things life list taught her engraved on her heart, Olga embarks on a new adventure as a spirit guide, but nothing prepares her for the chilling truths she's learning along the way.
*Book Cover Blurb:
Lying is unbearable, betrayal is inevitable, and choosing which path to take is impossible.
Olga Gay Worontzoff ended her senior year as an eighteen-year-old girl totally in love with Nate, enjoying their new romance and about to attend the university of her dreams. Now she's spending her summer in the weird subculture of the Underworld, with charmingly witty and powerful angels, and problematic demons, trying to rescue Connor, the best friend and secret crush she was unable to save during a freak accident.
But Nate has other things on his mind, mainly Grace. She's their first assignment as joint spirit guides, and Olga's feeling hurt and jealous. His mysterious behavior has Olga questioning everything she believed about him and now she must decide whether to stick to their plan, or follow her heart.
Unfortunately, a series of mistakes threatens everyone around her and plants Olga in the center of cosmic events much larger than she ever imagined.
Only one thing is certain: the chilling truths uncovered during her journey will leave no one untouched.
Website: www.jamieayres.com
Add 18 Truths to your Goodreads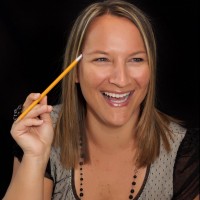 Publisher's Bio:
Jamie Ayres writes young adult paranormal love stories by night and teaches young adults as a Language Arts middle school teacher by day. When not at home on her laptop or at school, she can often be found at a local book store grabbing random children and reading to them. So far, she has not been arrested for this. Although she spent her youthful summers around Lake Michigan, she now lives in Florida with her prince charming, two children (sometimes three based on how Mr. Ayres is acting), and a basset hound. She really does have grandmothers named Olga and Gay but unlike her heroine, she's thankfully not named after either one of them. She loves lazy pajama days, the first page of a good book, stupid funny movies, and sharing stories with fantastic people like you. Her books include the first two installments of her trilogy, 18 Things and 18 Truths. Visit her online via Twitter, Facebook, or at www.jamieayres.com.
Short version:
Jamie Ayres writes young adult love stories by night and teaches young adults as a middle school teacher by day. She lives in southwest Florida with her husband and two daughters. Her books include 18 Things and 18 Truths. Visit her website at www.jamieayres.com.
And here's the Rafflecopter giveaway!