My fellow author and friend Justin Macumber has just released his supernatural horror novel, Still Water, from Gryphonwood Press!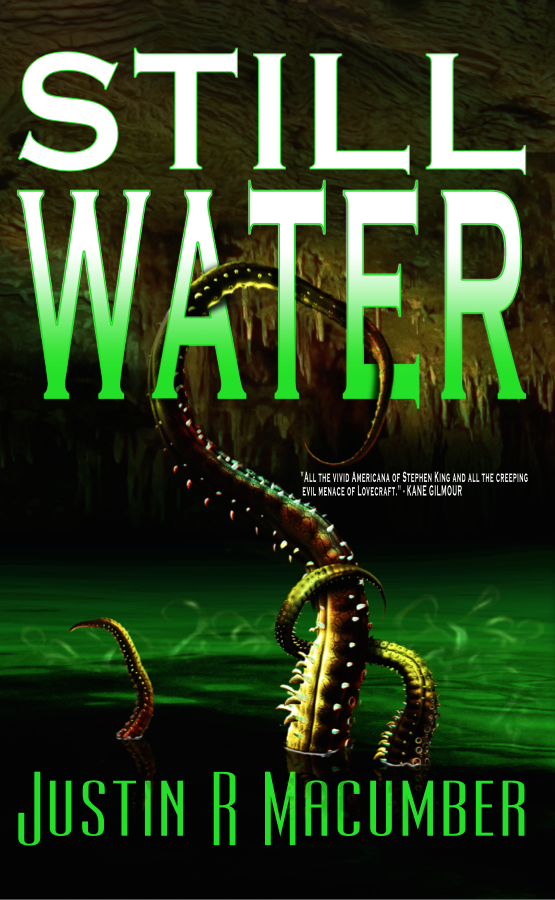 I love this cover! It also reminds me that I keep leaving my tentacles at work!
Blurb:
Coal is the hard, black heart of the mountain town of Stillwater, West Virginia, but far beneath it lies something much darker, an evil beyond time, waiting to rise and bathe the world in blood and fire once more. When unwitting miners dig into its tomb, only Kyle – Stillwater's prodigal son – and paranormal investigator Maya stand between humanity and Hell. Time is short and evil runs deep in… STILL WATER.
It sounds amazing! Here's what others have to say: 
"In STILL WATER, Justin R. Macumber brings all the vivid Americana of Stephen King and all the creeping evil menace of Lovecraft, to a claustrophobic tale of horror lurking in the deep parts of the world. The lush prose pulls you in and carries you along at a mounting pace until a confrontation so bloody, you can feel the claws raking you." -Kane Gilmour, Bestselling Author of RAGNAROK and THE CRYPT OF DRACULA
"You'll want to leave the light on long after you've turned the final page of this dark thriller!" -Jeremy Bishop, author of REFUGE.
"Justin Macumber excels in the dark. STILL WATER will trap you and never let go." -Edward Lorn, author of CRUELTY
"Macumber's Still Water marries Lovecraftian-dread with a character driven thrill-ride that will leave you shivering with fear." -Paul E Cooley, author of GARAAGA'S CHILDREN.
About Justin:
Justin Macumber is the author of HAYWIRE and A MINOR MAGIC. When not hard at work on his next story he hosts the popular Dead Robots' Society podcast. He and his lovely wife live in the Dallas/Fort Worth metroplex along with their motley pack of dogs and cats that they think of as their children. Visit him online at justinmacumber.com and deadrobotssociety.com.
You should go buy this book! It's available at Amazon, Barnes & Noble, and Kobo!