Today, I have the author, S. L. Bynum, here on the blog to discuss her love of books and to talk about her YA novel, Grim Crush! Take it away!
I think the best part about reading or writing books is that you can escape.
In books, you can go places that you might never go to in real life. You certainly won't be visiting any lands filled with dragons or worlds where you can get things done with the flick of a wand (but we can keep hoping, right?). For a few moments, while reading a book, you can escape to some place different from your life. And who doesn't want to escape every now and then?
Life can be cruel. People can too. But in books, you can read about people who are good, and where life ends happy for the main character, most of the time. It gives you hope that your life can change too.
You can read about characters that overcome obstacles, when you're in the middle of trying to overcome some in your own life. You can read about characters who triumph after failure, when you've had multiple failures yourself. You can read about characters who find the love of their life, while you may be looking for that person yourself.
That's why I'm glad I'm an author. I get to help contribute to the great world of books. I get to entertain people and help them escape.
What are some reasons why you read books?
---
Great question! Feel free to comment below! Here is more info about S. L. and Grim Crush!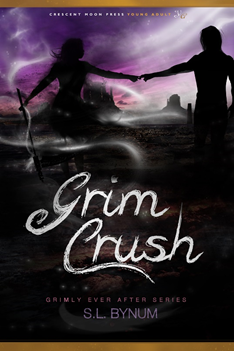 Blurb:
1. Do not interfere with someone's death.
2. Do not become emotionally involved.
3. Do not show yourself to the living.
As a grim reaper, seventeen-year-old Xia has to follow these Rules. But when she meets Shilah, a Native American boy who can see reapers, she figures the rules don't apply. To find out why he can see her, she pretends to be human, since carrying a scythe probably isn't the latest teen craze.
Things become unnerving as she begins experiencing first-time affection with Shilah, but she's irreversibly drawn to him. Suddenly Xia finds herself breaking Rule Two, even while collecting dead souls behind Shilah's back. It isn't long before she is caught red-handed by the Angel of Death himself, and then not only is her relationship at risk, but also Shilah's soul. And this leaves Xia wondering: can love overcome Death?
Author Bio:

 
S. L. Bynum knew she had a creative imagination as a kid, when she would make her beanie babies go on the craziest adventures. She fell in love with writing at the age of twelve, when she wrote a rendition of The 

Three Little Pigs

 for her little brother's homework assignment. She realized she wanted a career as an author at the age of sixteen, and when she's not working on that dream, she works in a clothing store. S. L. Bynum is twenty-four now and besides books, she loves desserts, fashion, dancing (when she's alone), warm weather, and playing video games. She lives in Greensboro, North Carolina with her family.
Thanks for being here, S. L.!