Hey, everyone! Author Kathryn Fogleman is here for 13 Questions! I met her at an author book fair a few months back and found her absolutely delightful! Plus, she's a fan of Firefly, so you know she has good taste and can be trusted. Here we go!
Me: Did you learn anything today? If so, what?
Kathryn: Well, a friend sent me a recorded podcast for an author's class, and I learned that all of your social media should run back to your BLOG. Not your website. The reason for this is because your blog has all the fresh content and people can subscribe to your blog. Your website – not so much.
Me: This makes perfect sense! Where did the idea for Tales of the Wovlen: The Dragon's Son come from?
Kathryn: The movie "Dragonheart" was the primary inspiration for The Dragon's Son, along with "Robin Hood: Prince of Thieves", "First Knight", and a few other medieval movies that my mother obsessed over when I was little.
When the first Lord of the Rings movie came out, it set a blaze to my imagination and I knew right then that I wanted to write a fantasy story, set in a fantasy/medieval world, with little fantasy characters that went on fantastic adventures, and, of course, I wanted a dragon as a good guy throughout the entire thing. Nobody had a dragon as a good guy in their story until Dragonheart (and Anne McCaffrey's books… if you want to call those real dragons). So, I HAD to have a dragon as a good guy.
Me: Awesome! What's something about yourself that really annoys you?
Kathryn: Weeeeeell… three things, primarily:
Number one is "X" rated.
Number two is "R" rated.
Sorry kids… no show for them today!
But, number three is okay for all audiences. It is this: I am a couch potato. I don't like it and I don't know how it really happened, but it is true.
When I was a little kid, I was very active (mom won't let me use the word "Hyper"). I wanted to be a horse trainer and a dancer when I grew up.
When I was in my teens, I was active. I trained my own horse successfully, I did a lot of cowboy work, and I was a pretty stinking good archer (lost the dancing somewhere).
Then I graduated high school, got in an accident that messed up my knee, hip, and hearing, and had two HUGE falling outs with family and friends… AHEM…
Needless to say, so many blows all in ONE year kind of messes with a person's motivational button and happy dial.
Slowly – but surely – I am forcing myself to be less of a lounging starch tuber: get up and work out, go outside and work, exercise my dog, play ball, ride a bike, smile at someone, tell a joke… no cake… no cake… no chocolate milk… no cake… and NO sitting down unless it is to write. And no pity parties either. *squints at self*
Me: Being active is a good thing, but no cake?! I'm so sorry. What's the name of the book you're reading?
Kathryn: Right now it is The Arrival by Dakota Kemp. He has basically taken something from just about every geek-dom in existence, thrown it all into a blender, and made awesome-sauce from it… in another word, it seems to be a pretty good book.
Me: Cool! What scares you?
Kathryn: Very few things scare me.
*Glances around suspiciously and leans in closer*
However, I have this thing about snakes… okay, I have a really BIG thing about snakes. Snakes bug me. Pictures, stories, drawings, or the real thing: it all makes my poor little heart go "Ka-tunk, Ka-tunk!"
People in bunny suites – *Eye-twitch* – Can't handle it.
And Peter Pan. There is just something about that dude that makes my brain fart helium.
Me: That's so interesting! Pop or soda or soda pop or Coke?
Kathryn: If it has sugar, I'll take it.
It it's Root Beer or Cream Soda, I will rule the world with it!
Me: Yes! Why do you write?
Kathryn: Because the cranial explosion that would occur as a result of clogged cerebral-to-fingers filters would destroy the world.
I would die.
You would die.
We would all die.
The Dinosaurs would rule the earth again.
Me: HA! What's the last song you listened to on purpose?
Kathryn: "Song of Durin" written by J.R.R. Tolkien and performed by Eurielle on YouTube. It is SO beautiful. And yes, I am a huge Tolkienite. I like listening to any music and reading anything that relates to any of J.R.R. Tolkien's work.
Me: I'll have to give that one a listen! What is your favorite salty treat?
Kathryn: Popcorn or Frito Corn Chips… I make kettle corn at home all the time, so I would really go for some corn chips right now. The scoops are the best.
Me: Yummmm. What makes you laugh?
Kathryn: Nearly anything. Myself especially. I can literally sit alone and crack myself up all day long.
Me: I'm so glad you answered that way! I find myself pretty entertaining, but a lot of people would disagree. Anyway, what's your favorite planet?
Kathryn: Well, my mother would like me to say Earth, but I'm originally from Mars, and there is just no place like home. HOWEVER, in all honesty, I would have to say that Saturn is my favorite planet. I used to stare at it from my Martian bedroom window, and, after visiting that lovely planet, I have to say that they have the BEST gas weenies (Hot Dogs cooked over a gas fire… LONG story for another time).
So, in a word, Saturn rules.
Me: Yay for Saturn! You just walked in the door after a long day. What do you do first?
Kathryn: Moccasins go up in the shoe holder. Purse on the hook. Then I grab a cup of something to drink (tea, coffee, or water… maybe chocolate milk), walk into the living room, and talk about my day to my mom (or whoever is listening). I make my day into something exciting and funny, even if it was boring. It keeps my imagination and storytelling skills lubricated. Besides, who wants to hear about a boring day? I don't.
Me: Writers never have boring days! Here's a free plane ticket! Where would you like to go?
Kathryn: Scotland! Or New Zealand? Tough choice! Scotland has a lot of really rich history that I am interested in, and it has Loch Ness. I might see Nessie! Plus, some of my father's family originated from Scotland (Clan Campbell… verm, verm!). But, New Zealand has Hobbiton, Rivendell, and sheep. Lots of sheep.
I don't know… Australia would be pretty cool to visit too. Or Ohio… or Alaska…
Ack. Whatever! I'll just stop at Albuquerque when Bugs Bunny makes a left there.
I'll see you in Alubuquerque! Thanks for stopping by!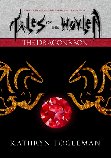 BIO: Kathryn Fogleman is a self published Amazon author of family friendly Fantasy and good humor. She also happens to be a Science Fiction nerd with a dash of crazy fangirl.

WEB: http://www.kathrynjfogleman.com/
BLOG: http://www.depthsofimagination.net/
BOOK: http://bit.ly/DragonSonToW
FB PAGE: http://bit.ly/FBkjf
TWITTER: https://twitter.com/KJFogleman