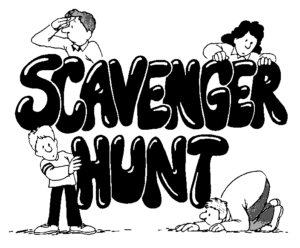 Welcome to YA Scavenger Hunt! This bi-annual event was first organized by author
Colleen Houck
as a way to give readers a chance to gain access to exclusive bonus material from their favorite authors…and a chance to win some awesome prizes! At this hunt, you not only get access to exclusive content from each author, you also get a clue for the hunt. Add up the clues, and you can enter for our prize–one lucky winner will receive 
one book from each author on the hunt in my team
!
But play fast: this contest (and all the exclusive bonus material) will only be online for 120 hours!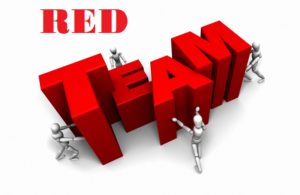 Go to the YA Scavenger Hunt page to find out all about the hunt.
There are SIX contests going on simultaneously, and you can enter one or all! I am a part of the
RED TEAM
–but there is also a red team, a gold team, an orange team, a red team, and an indie team for a chance to win a whole different set of books!
If you'd like to find out more about the hunt, see links to all the authors participating, and see the full list of prizes up for grabs, go to
the YA Scavenger Hunt page
.
SCAVENGER HUNT PUZZLE
Directions:
 Below, you'll notice that I've listed my favorite number. Collect the favorite numbers of all the authors on the
red team
, and then add them up (don't worry, you can use a calculator!).
Rules: Open internationally, anyone below the age of 18 should have a parent or guardian's permission to enter. To be eligible for the grand prize, you must submit the completed entry form by Sunday, October 8th, at noon Pacific Time. Entries sent without the correct number or without contact information will not be considered.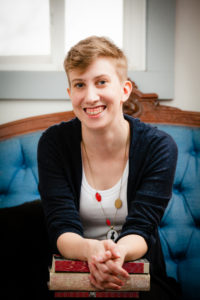 Today, I am hosting
Katherine Locke
 on my website for the YA Scavenger Hunt! 
Katherine Locke lives and writes in a very small town outside of Philadelphia, where she's ruled by her feline overlords and her addiction to chai lattes. She not-so-secretly believes most stories are fairy tales in disguise. Her Young Adult debut, THE GIRL WITH THE RED BALLOON, arrived September 1, 2017 from Albert Whitman & Company.
Find out more information by checking out the author website or find more about the author's book here!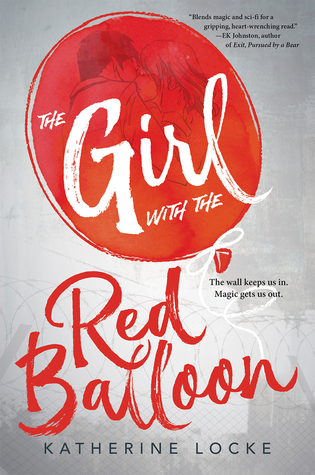 When Ellie Baum accidentally time-travels by way of magic red balloon to 1988 East Berlin, she finds herself trapped in a conspiracy of history and magic and how she got there might be related to how her grandfather escaped a death camp in 1942.
As the bodies of dead time-travelers pile up, Ellie and Kai and Mitiz, two teens connected to the magical underground resistance in Berlin, are in a race against time. The only way to stop more death may destroy Ellie's only way home.
Told in three points of view, The Girl with the Red Balloon weaves together an intricate plot and examines hope, history, love, faith and magic.
Now for the exclusive content!
Deleted Scene from The Girl with the Red Balloon:
Kai heads back toward his room and I'm still sitting on the sofa. I don't want to humor him. I want to be left alone. But part of me is tired of being alone. Part of me wants to follow, to listen to him. I drag myself off the sofa, leaving the quilt behind on the floor. I wrap my arms around myself and follow him down the dark hallway. He stops at his open doorframe to his room. My hands fall to my sides.
Books. Hundreds of books. They're stacked as high as the radiator on one wall, and they serve as a bedside stand next to his bed. They're spilled on the floor, and spilling out of shelves. They are paperback and hardback, dusty, open, new, old, all colors and all sizes, and there are so many of them. I step past him into the room, squatting by the floor to touch the top of one of the books. It's an Isaac Asimov short story collection. My step-dad had it at home. I recognize the aliens on the cover. There's a musical theory book, all sorts of books.
I look up at him and whisper, "Some are in English."
"Most, actually," he leans on the doorway, arms crossed.
"If you were ever caught—"
"The books are the least of my concerns." He turns his hands slightly as if to show me the sun and moon inked on the backs of his hand. "Pick out a book. It'll give you something to do other than sleep and cry."
I want to be offended but I'm in a room full of books and I kind of want to kiss Kai right now. Not because he's being particularly sweet or hot or cute or kind because he seems to be doing this with a laissez-faire attitude. But these are books, he's giving me books, and given the state of his room, the piles of books around them, I suspect that he doesn't often lend out books. It would be dangerous, I reason, my fingers running over the worn backs of the books. He couldn't let people know that he had amassed a small library of science fiction and classics, mostly by American authors or written in English. I finally sit down on the floor and cross my legs.
I tug out a book with a black cover, and the title coming up like smoke from the base of the page. I read it aloud. "SOMETHING WICKED THIS WAY COMES by Ray Bradbury. Oh man. I didn't know he wrote anything other than FAHRENHEIT 451."
"Ah, that's here too, if only for the irony of keeping a book about banned books amongst banned books." He smiles a little bit, sliding to the floor next to me and crossing his legs, his arms draped easily over his knees. "Read it. You'll like it, I think."
I open up the book and run my fingers over the title page. "I didn't read much, at home. I used to, but then…I stopped reading except for school. Friends, and boyfriend, they just took up a lot of time."
"I don't get to read often that much." He picks up a few books. "Between the job and friends and trying to sleep. It's nice to just have the books, though. Here, it's a bit of subversion too. My own rebellion."
---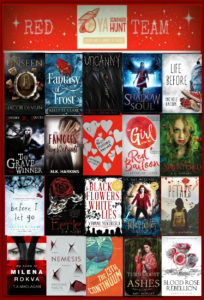 Thank you, Katherine, for sharing!
Don't forget to enter the contest for a chance to win a ton of books by me, Katherine Locke, and more! To enter, you need to know that my favorite number is 333. Add up all the favorite numbers of the authors on the red team and you'll have the secret code to enter for the grand prize!
CONTINUE THE HUNT