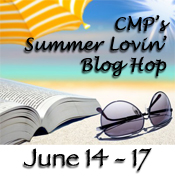 Crescent Moon Press authors are ready for summer! We'll be blogging about our summer loves, our romances, and how much we love summer! Have you ever had a summer fling? Do you have a favorite book about summer? What's on your summer reading list? What are some great beach reads? We're blogging about all of it!
Visit our blogs below and enter to win some great prizes between June 14 -17.
Grand Prize: A Kindle Paperwhite & some of our eBooks to read on it!
1st Prize: A $20 Amazon gift card, and a Swag Pack that contains paperbacks, more eBooks, bookmarks, cover flats, magnets, pens, and more!
Other Prizes – You'll have to hop around the other blogs to find out what they are!
Drop by our blogs between June 14 & 17 and enter the rafflecopter!
Good luck & hope to see you there!
Okay, here's my summer lovin' post!
Schooooooooool's out for summer! But that's not the only reason I love this time of year. Sure, I have more time to catch up on life and I can write until my fingertips are bloody, but summer fills me with smiles for other reasons, too. The soaring temperatures, the freedom to do whatever I want, the excited stir in my stomach – it all reminds me of one summer long ago when love grabbed me around the waist and hasn't let go since.
Yes, the ewey, gooey love stuff is about to begin, but you can handle it.
One summer in high school, my crush had a birthday party and invited me. After some high-pitched squeezing, I went, of course, and I sat next to a guy from out of town who I'd never met before. He was the drummer in my crush's band, but that was all I knew. As we sat there, he kept showing me pictures of recent concerts he'd gone to and cracking me up with every bizarre thing that fell out of his mouth. He was strange in a just-like-me sort of way, and he had the prettiest green eyes I'd ever seen. And that smile…wow. I was a total goner. (He must've been a goner, too, because he's sitting just a few feet away as I type this, many years after this happened.)
But anyway, he lived out of town, about six hours away to be exact. So, I would only get to see him during summers when he came to visit his dad (who happened to live in town) and to visit and practice with his band. Summers became the best time ever for that exact reason.
In between summers, we wrote letters back and forth. Real letters with paper and pencil since these were the pre-email and pre-texting days. If you guessed that I'm at least five hundred years old, you're absolutely right!
I still have all the letters he sent me. He'd write about random things he was doing or planning to do, school projects, or odd things he'd seen. He would illustrate his letters with funny drawings in the margins. Getting one of his letters in the mail was almost as great as summer.
I graduated high school and went to college where he lived, and then we didn't have to rely on summers or letters anymore after that. We had the rest of our lives.
Your turn! What's your favorite summer memory? Leave your answer with your name and email for a chance to win a $5 gift card to the bookstore of your choice!
Here's the link to the Rafflecopter: a Rafflecopter giveaway

Don't forget to hop around the blogs below for more chances to win!
Shawna Romkey Author blog
Constance Phillips, A Writer's Musings
Katie O'Sullivan;
Summer Lovin' – On Olympus…
Kate's Blog
Kary Rader
Lindsey R. Loucks
Summer Lovin', postcards, and maybe bookmarks
Jody A Kessler Summer Lovin' Mountain Style
Official Website of Maer Wilson
Author Jean Murray ~ Wicked Romance Blog
Summer Lovin' Heat
Hildie McQueen' s Author Site
Loni Lynne's Blog Site
Author Avery Olive Blog
Wendy S. Russo
Cindy Young-Turner
Michelle Clay – The Darkside of Romance
the Marvelous Misadventures of Mrs. t
Shannon Eckrich